16
September 2023
Keeping your office space clean and organized is essential for maintaining a productive and healthy work environment. In this article, we will provide you with valuable tips to ensure effective daily office cleaning. From wiping down surfaces to disinfecting high-touch areas, you'll learn the best practices to keep your office spotless and sparkling. Whether you're a seasoned cleaning professional or someone tasked with office maintenance, these tips will help you streamline your cleaning routine and achieve outstanding results. Say goodbye to dust, grime, and clutter, and say hello to a pristine office space that promotes success and boosts morale. Let's get started!
Tips for Effective Daily Office Cleaning
This image is property of www.avalon-services.com.sg.
Importance of Daily Office Cleaning
Keeping your office clean and tidy is not only aesthetically pleasing but also essential for maintaining a healthy and productive work environment. Daily office cleaning plays a vital role in the overall well-being and morale of employees. A clean office can help reduce the spread of illnesses, improve indoor air quality, and create a positive impression for clients and visitors.
Creating a Cleaning Schedule
To ensure effective daily office cleaning, it is crucial to establish a cleaning schedule. This schedule will help you stay organized and ensure that all areas of the office receive proper attention. Start by identifying high-traffic areas that require frequent cleaning, such as the reception area, restrooms, common areas, and kitchen. Then allocate specific time slots for each task, ensuring that all areas are cleaned regularly and thoroughly.
Getting the Right Cleaning Supplies
Having the right cleaning supplies on hand is essential for effective office cleaning. Invest in high-quality cleaning products that are suitable for different surfaces, such as glass cleaners, disinfectants, all-purpose cleaners, and microfiber cloths. Additionally, ensure that you have an ample supply of cleaning tools like brooms, mops, vacuum cleaners, and trash bags. Using the right cleaning supplies will not only make your cleaning tasks more efficient but also help maintain the longevity of office furniture and fixtures.
Cleaning High-Traffic Areas
High-traffic areas, like the entrances, hallways, and communal spaces, require special attention during daily office cleaning. Regularly vacuuming or sweeping these areas will help remove dirt, dust, and debris, preventing them from being spread throughout the office. Mop hard floors using appropriate cleaners to ensure they are free from any stains, spills, or sticky residues. Pay attention to areas prone to spills or food crumbs, such as the kitchen or cafeteria, and promptly clean up any messes to prevent attracting pests.
This image is property of assets-global.website-files.com.
Properly Cleaning Computer Equipment
Computer equipment, such as keyboards, mice, and monitors, are often breeding grounds for germs and bacteria. Therefore, it is essential to include them in your daily office cleaning routine. Use disinfectant wipes or alcohol-based cleaners specifically designed for electronics to clean and sanitize these surfaces. Pay special attention to areas that come into contact with hands, such as keyboard keys and mouse buttons. Regularly cleaning computer equipment will help maintain a hygienic workspace and reduce the risk of illness among employees.
Emptying Trash Cans
Emptying trash cans regularly is another important aspect of daily office cleaning. Overflowing or neglected trash cans not only give off unpleasant odors but also attract pests and create an unhygienic environment. Make it a point to empty all trash cans at the end of each day, or more frequently if needed. Replace trash bags with new ones and ensure that the bins are clean and free from any residue. Encourage employees to dispose of their waste properly and provide clear guidelines on what can and cannot be thrown in the bins.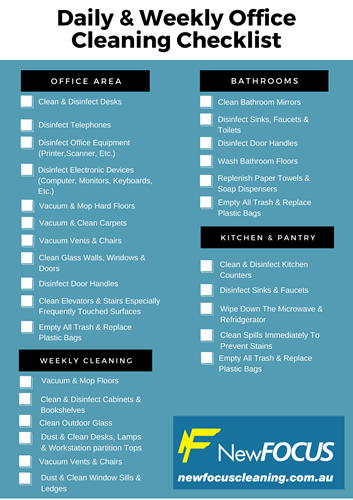 This image is property of www.newfocuscleaning.com.au.
Dusting and Wiping Down Surfaces
Dusting and wiping down surfaces should be an integral part of your daily office cleaning routine. Dust accumulates quickly on desks, shelves, and other surfaces, which can impact indoor air quality and contribute to allergies or respiratory issues. Use microfiber cloths or dusters to remove dust from surfaces, paying attention to areas that often go unnoticed, such as the top of cabinets or bookshelves. Wipe down surfaces with appropriate cleaning solutions to remove fingerprints, smudges, or any spills. Regular dusting and wiping will not only keep your office looking clean but also promote a healthier work environment.
Cleaning Floors
Clean floors not only enhance the overall appearance of your office but also contribute to the safety of employees. Regularly vacuum carpets to remove dust and dirt, or consider professional carpet cleaning at regular intervals. Hard floors should be swept or vacuumed first to remove loose particles, followed by mopping with appropriate cleaners. Pay special attention to spills or stains and clean them up promptly to prevent accidents or slips. Maintaining clean and well-maintained floors will create a positive atmosphere and reduce the risk of workplace accidents.
This image is property of enviro-master.com.
Sanitizing Restrooms and Breakrooms
Restrooms and breakrooms are areas that require extra attention during daily office cleaning. These spaces are frequently used and are prone to harboring germs and bacteria. Ensure that restrooms are thoroughly sanitized, including toilets, sinks, faucets, and door handles. Stock them with essential supplies like soap, paper towels, and toilet paper. Breakrooms should also be regularly cleaned, including appliances, countertops, and tables. Emphasize the importance of cleanliness in these areas to employees and encourage them to maintain hygiene etiquette.
Regular Maintenance and Inspections
Aside from daily cleaning tasks, it is crucial to perform regular maintenance and inspections in your office. This includes checking for any plumbing or electrical issues, replacing burned-out light bulbs, and ensuring that all equipment and fixtures are in proper working condition. Regular inspections will help identify any potential hazards or maintenance needs, allowing you to address them promptly and maintain a safe and functional workspace.
In conclusion, effective daily office cleaning is essential for creating a pleasant and productive work environment. By following these tips, you can maintain a clean and hygienic office that promotes employee well-being and professionalism. Remember to establish a cleaning schedule, use the right cleaning supplies, pay attention to high-traffic areas, properly clean computer equipment, empty trash cans regularly, dust and wipe down surfaces, clean floors, sanitize restrooms and breakrooms, and conduct regular maintenance and inspections.
This image is property of nwmaids.com.